Copper Gutters & Galvalume Gutters Specialist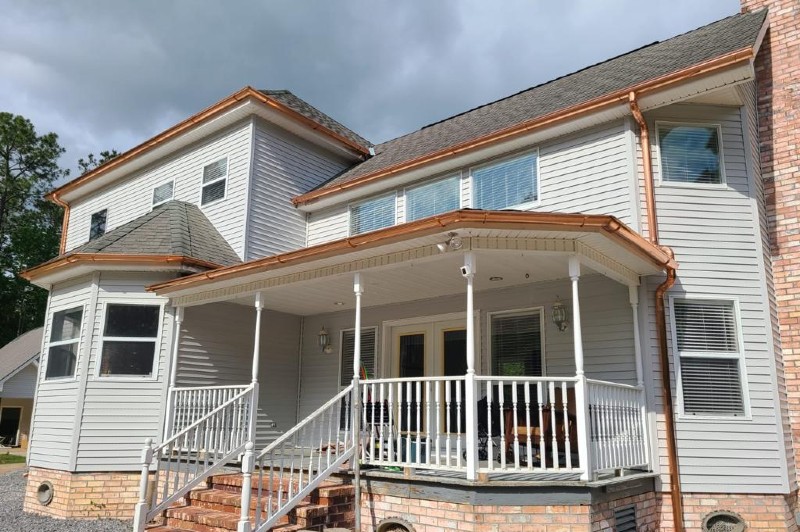 Majestic Gutters has established itself as an industry leader in Gonzales for gutters, and partly because we offer all the services and products you could need. When it comes to Galvalume and copper gutters, we're your company. For sturdy and attractive gutters, you're going to love these options.
From the gutter installation process to the follow-up care we provide, you're going to be glad you picked us. It all starts when you contact us to request your free estimate. We're even the go-to team you can call for gutter cleaning and maintenance service.
If you're ready to get started with upgrading to an option like copper gutters, give us a call. Even if you're unsure and want to discuss your options, we'll be glad to help you and answer any questions you may have.
Copper Gutters
As a top contender for gutter installation for Gonzales and the surrounding area clients, we know a thing or two about gutters. As attractive as copper gutters are, the primary selling point is longevity. Imagine having sturdy gutters that could last as long as 60 years. Most homeowners who want to combat the corrosion caused by living in climates surrounded by bodies of water, especially coastal areas with saltwater, make a selection like copper.
Optimal Lifespan
Resistant in Coastal Climates
Durable and Functional
Stylish and Bold
Increase Home Value
Even if you're working with a tighter budget, choosing copper can be ideal because you're getting more return for your investment. Remember that copper gutters turn green, as in the greenish patina that occurs from the natural oxidation process. This worn look is highly desirable, and many homeowners seek ways to speed up this process to achieve this weathered and aged "antique" look.
Galvalume Gutters
The average homeowner isn't familiar with Galvalume Gutters - a steel substrate that's coated in a mix of 55% aluminum and 45% zinc. The result is a material that's durable, long-lasting, and resistant to rusting. Not only are these gutters built to last, but they also enhance the curb appeal of your home.
For homeowners who want gutters that are attractive and long-lasting but that won't go through a patina process, Galvalume Gutters are the ideal solution. Call Majestic Gutters today to schedule an appointment to discuss options like Galvalume and copper gutters as a way to protect and improve your Gonzales and the surrounding area home.
Galvalume Gutters Image Gallery
Copper Gutters Image Gallery